PABBO, AMURU- In the Acholi sub-region, there is a high unmet need for family planning at over 39% worsened by very low use of modern contraceptives. This is further exacerbated with the high cases of teenage pregnancies largely affecting adolescents and their potential to realize their full potential.
UNFPA with funding the Netherlands Embassy is implementing a four-year programme (ANSWER programme) aiming at contributing to the achievement of universal access to Sexual and Reproductive Health and Rights (SRHR) of women, girls, boys and men including disadvantaged and vulnerable populations in Uganda.
Marie Stoppes Uganda, an Implementing Partner of UNFPA under the Advancing Sexual Reproductive Health and Rights in the West Nile and Acholi sub-regions in Uganda built the capacity of twenty-four village health team (VHTs) members to provide adolescents with adolescent sexual and reproductive health (ASRH) to undertake SRHR/GBV information sessions, pregnancy mapping and issuance of voucher cards and referral of eligible mothers to the health facilities.
As a strategy to increase teenager's access to Family Planning (FP), Gender-Based Violence (GBV) and maternal health services, vouchers are used to map and refer those in need of services such as Antenatal care services (ANC), delivery, post-natal care services to mention but a few. The VHTs are attached to twelve health facilities spread across the district and are significantly contributing to this important role in the programme. VHTs like Ms Florence Atoo, 36 years old is one of the Village Health Teams (VHTs) who is actively involved in demand generation for FP/GBV/SRHR services with a focus on ensuring adolescent girls are not left behind.
"I have been trained on Sexual and Reproductive Health (SRHR) including Family Planning as well as e-voucher generation and overall management of the vouchers, a skill which is helpful to link to refer the pregnant mothers to the health facilities for further medical support," says Florence.
"I move door to door to identify and mobilize the young mothers for GBV/SRHR/FP and maternity services. Vouchers are issued to those eligible for the services and are immediately referred to the health center," she adds.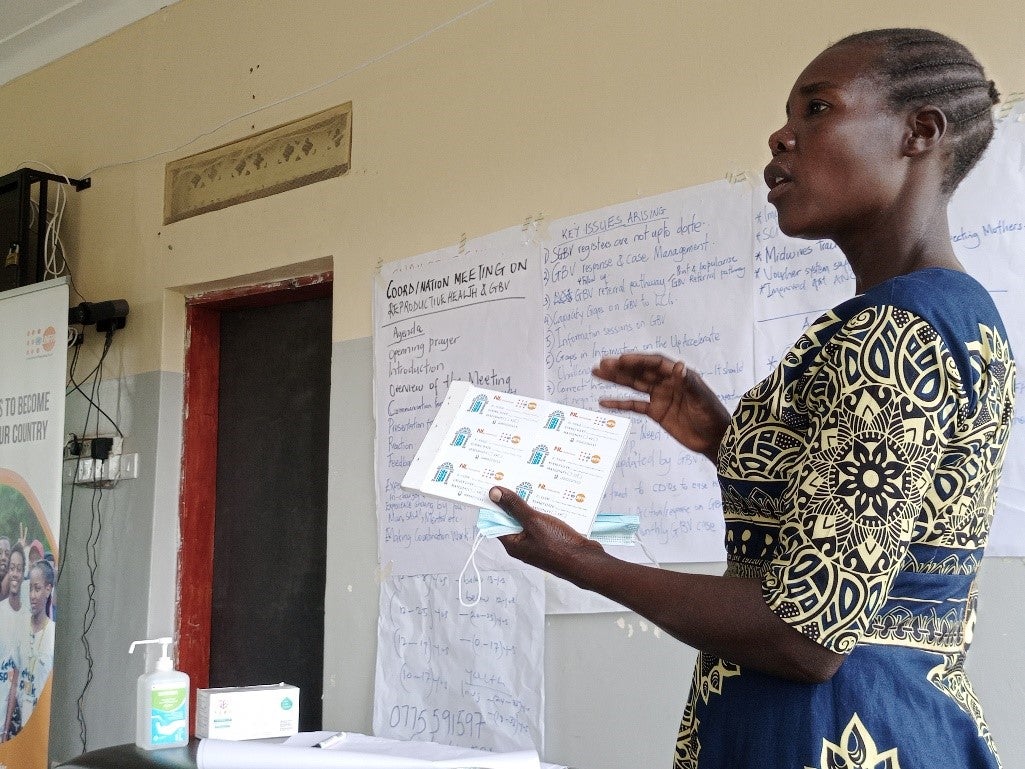 Florence narrates that one of the beneficiaries was a 15-year-old adolescent girl who through the voucher programme was supported with antenatal care services at Pabbo Health Centre III. She says that close collaboration with local leaders and other stakeholders eases the work of the VHTs to reach every teenage mother with these very important healthcare services.
 "Some of these girls are very vulnerable and may not confidently seek help, and thus VHTs come in to ensure no one is left behind," Ms Atoo explains. 
"The voucher services have significantly helped teenage mothers in this community, some of them are too young and fear being stigmatized and discriminated against. Our midwives are very supportive to the mothers and this also motivates the community when referred," Ms Atoo further explains.
She says that mothers with complications during labour are also referred immediately through the ambulance service provided by UNFPA to avert any further dangers.
On male involvement, Ms Atoo states that there are some improvements in male involvement especially in family planning and maternal health aspects of women. 'I had a male partner who brought his wife to be supported through the voucher service and I gladly provided them with the necessary information before referral to the health center', says Ms Atoo.
Ms Atoo strongly believes that it requires concerted efforts of all stakeholders to meet the SRHR needs of adolescents and young people.
- Story by Cinderella Anena