Every day in Uganda, the stories of hundreds of cases of teenage pregnancies reported across the country have become a 'new normal', visibly creating a crisis that may hinder national efforts to achieve development goals. And as the numbers surge by the day, teenage pregnancies are not only depriving adolescent girls of their childhood, education, and mental and physical wellbeing, but also carry huge implications on the social and economic development of the nation.
But there is hope. Three key women at the helm of political leadership: The First Lady and Minister of Education and Sports, H.E. Janet Kataaha Museveni; the Vice President, H.E. Jessica Alupo: and the Prime Minister, Rt. Hon. Robinah Nabbanja have come together to fight this vice.   They all agree that harmful practices against women and girls, like teenage pregnancy, are a national issue that requires the collective efforts to  address, and have committed to champion this cause. Uganda therefore stands a unique opportunity to create social momentum that could reverse this tide.   
On December 3 2021, the Government of Uganda, with support from UNFPA and UNICEF launched 'Protect the Girl, Save the Nation', a campaign to mobilize society against the escalating cases of teenage pregnancies. The aim is to mobilise the entire society to form a movement for the prevention of teenage pregnancies.
The pillars of the campaign include: i) The prevention of teenage girls' pregnancies; (ii) The provision of social protection to teenage mothers; and (iii) The provision of social protection to the babies born to teenage mothers. To support the above three objectives, the campaign will create and manage robust evidence and knowledge around the phenomenon of teenage pregnancy. Credible and reliable evidence will shape and guide interventions and will serve as a benchmark for monitoring progress.
At the launch of the Campaign, First Lady Hon. Janet Kataaha Museveni and the Minister for Education and Sports, made a strong commitment to use her position and office to ensure that teenage pregnancies and child marriages are addressed in Uganda.
"As a mother, but also a minister responsible for the education of children in this country, I feel that this is alarming, it puts our country at risk and therefore, deserves our attention," the First Lady said in a statement read on her behalf by the Minister of Health, Hon. Jane Ruth Aceng. 
The First Lady added that Uganda may not be able to achieve the Sustainable Development Goals as well as Vision 2040 if teenage pregnancy and child marriages are not addressed, calling for a concerted effort from all to address the root causes of the crisis. She said with enabling policies like the Uganda 1995 Constitution, The Children's Act (2016), all stakeholders should hold themselves accountable for any inaction.
"This is the reason why I am committing my office to lead a national campaign whose main aim is to mobilize the country against those vices," The First Lady said.
The First Lady's commitment was seconded by a message from the Vice President of the Republic of Uganda, H.E Hon. Jessica Alupo who assured of her personal commitment and commitment of government leaders to ensure that the Campaign to end teenage pregnancy, child marriage, and promote positive parenting succeeds.She called for support of both the girl child and boy child, ensuring that they enroll and complete school through universal secondary and tertiary education.
"Studies indicate that for a woman to have the education she has received, to have impact in terms of decision-making and reproductive choices, she should be exposed to continuous formal education for at least ten years," said the Vice President, in a message read on her behalf by Hon. Chris Baryomunsi, Minister for ICT and National Guidance.
"We should have the commitment to do whatever we can within our different areas where we work to ensure that we address the challenges of defilement, child marriages, teenage pregnancies and most importantly promote positive parenting," the Vice President said.
The Prime Minister, Rt. Hon. Robinah Nabbanja described the situation as painful - seeing children bearing babies yet they know nothing about, nor prepared to raise them.
She said that while the COVID-19 pandemic forced school closures in order to protect and save lives, it has further shown the critical role of schools in the upbringing of our children.
"The fact that teenage pregnancies and defilement cases have risen in the lockdown has exposed the cracks and weaknesses in parenthood in our homes and families. This must change," said Rt. Hon. Nabbanja.
She added that the many girls who got pregnant in the lockdown will be given the opportunity to return when school opens in January 2022.
"Those girls who got pregnant and have given birth should be given an opportunity to go back to school. They will need help to get their lives back, to learn from their sad experiences and get their hopes restored," Rt. Hon. Nabbanja said.
Walking the talk
With generous funding from the Kingdom of Netherlands and from the Austrian Government, the national campaign that will employ a multi-sectoral approach, and has already received strong commitments and buy-ins from a cross-section of stakeholders. These include government ministries departments and agencies (MDAs), political leaders, religious and cultural leaders, development partners, the private sector, media, and civil society institutions.
Representing development partners at the launch, Ambassador of Ireland to Uganda H. E Kevin Colgan said the launch to address teenage pregnancy and other harmful practices in Uganda was a very clear sign of a joint commitment and ambition to join efforts to reflect, discuss and agree a way forward to address the challenges together.
"Defilement is a violent and heinous crime that robs a child of their innocence and is likely to hold life-long trauma. Child marriage is not only illegal, but it denies a young girl the chance of choosing her partner and realizing her ambitions. It is also likely to take her out of school and reduce her choices around education," he said.
On the same day, religious leaders also made a commitment to deliver interventions to address teenage pregnancy through actions and messages. They encouraged parents and adolescents to openly engage in healthy and open dialogues on sexuality and issues relating to teenage pregnancy prevention, creating awareness on the pandemic and sexual and reproductive health issues, and facilitating parent and youth group sessions at houses of worship to encourage discussions between parents and young people.
Speaking on behalf of the Inter Religious Council of Uganda, Archbishop Province of the Church of Uganda the Most Rev. Dr. Steven Samuel Kazimba Mugalu said religious leaders today have a special responsibility to help adolescents today achieve moral, spiritual and sexual health."We therefore call for faith communities to move beyond silence about sexuality or a fear or shame-based ethic that is only based on rules and prohibited acts. Young people pay a price too high when those of us in religious communities ignore our responsibilities to help them understand, affirm and embrace their sexuality," the Archbishop said in a statement read by Rev. Dr. Joseph Sserwadda.
"As religious leaders we pledge to play our role in helping adolescents understand their evolving sexuality and in helping them make responsible sexual choices, now and in their future."
Regional advocacy dialogues
As part of the campaign, UNFPA is also working with the National Population Council as co-lead in implementation of regional dialogues on addressing teenage pregnancy.  During the dialogues, district and regional commitment on addressing the drivers of teenage pregnancy are made including action plan for each district to address teenage pregnancy. The dialogues involve the participation of political, religious, cultural and opinion leaders in the regions. During one of the dialogues in Busoga region, His Lordship Bishop Paul Samson Naimanhye called for unity as leaders in order to address the issue of teenage pregnancy in the region, calling upon leaders to use their platforms for the cause.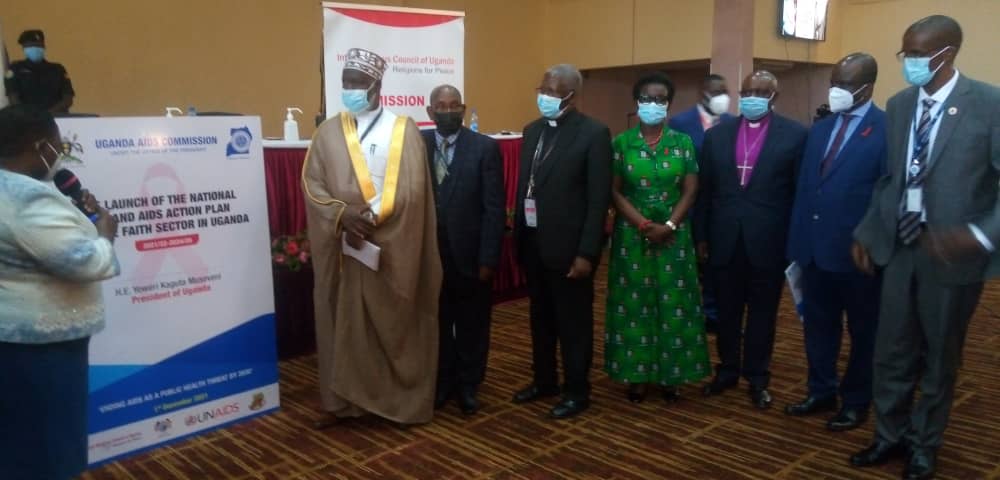 Background
The onset of COVID-19, in a bid to prevent the massive spread of the pandemic in Uganda, a total local down and closure of all education institutions was took effect. As a result, social protection systems for adolescents, and especially girls, was highly affected leading to an increase in cases of defilement, child marriages, teenage pregnancies in the last two years. Since March 2020, studies have shown an increase in cases of domestic violence, defilement, and teenage pregnancy in the country. A UNFPA (2021) study found that a total of 354,736 teenage pregnancies were registered in 2020 and a total of 290,219 registered between January and September 2021, implying an average of over 32,000 teenage pregnancies recorded per month.
Teenage pregnancy, a development issue
Uganda has a large young population with more than half of the population (55%) aged below 18 years (UBOS 2014). This young population presents a great opportunity for development if appropriate investments are made particularly in education, health and protection of young people. Adolescents (10-19 years) and youth (15-24 years) in Uganda already represent a vulnerable and underserved population group who face various Sexual and Reproductive Health and Rights (SRHR) challenges. The 2016 Uganda Demographic and Health Survey (UDHS 2016) shows the myriad of poor SRHR indicators for young people: high rates of teenage pregnancy (25%); unsafe abortions and maternal mortality with 28 percent of maternal deaths occurring among young women (15-24 years), coupled with early sexual debut (16.9 years for female; 18.5 years for male age 25-49); high unmet need for family planning at 30 percent among adolescents; gender-based violence; child marriage (34% by 18 years).
The cost of inaction
Teenage mothers are three times less likely to have professional jobs and twice more likely to be self-employed in agriculture. Eighteen percent of the annual births in Uganda are as a result of teenage pregnancy, 20 percent of Infant mortality and 28 percent of the maternal deaths result from teenage pregnancy. Projections show that families of all teenage mothers in Uganda in 2020 will spend UGX 689.9 billion (194 million USD) on children born in 2020 to complete secondary education by 2038.
Mitigation
According to a World Bank report, ending child marriage and teenage pregnancy could reduce the total fertility rate in the country by 8 percent; population growth in Uganda by a substantial margin. Additionally, the World bank study demonstrates that ending child marriage and teenage pregnancy could reduce under-five mortalities by 6.6 percent   In addition, being born of a mother younger than 18 years increases the risk of under-five mortality by 4.7 percentage points and being born to a young mother has an unusually large impact on under-five stunting at 22 percentage points (World Bank, 2017). Besides these, unprotected sex among adolescents and youth will potentially reignite HIV transmission negating achievements from decades of investment.
Story by Evelyn Kiapi