Twenty-five year-old Evelyne Awor was expecting her fourth child when the first COVID-19 pandemic case was reported in Uganda on 21st March 2020. Living in Alir Village, Adeya Parish, Morulem Sub-County, in Abim District, Awor's home was only five km to the nearest public health facility. So her birth plan was to deliver safely under skilled care at Orwamuge HC III.
However, on due date, Awor could not deliver from Orwamuge HC III because the health workers recommended otherwise. She had occurred two previous scars from past deliveries and this could cause obstetric complications that may need special care. Awor was thus referred to Abim hospital, a facility located over 30kms away.
But this was a challenge for Awor considering the lockdown measures government had put in place to contain a possible spread of the virus. These actions included a ban on both public and private transport and a curfew from dusk to dawn making it very difficult for many living in both rural and urban communities to access health facilities. 
Nevertheless, Awor was soon to learn that there was an ambulance referral system available to transport her to Abim hospital free-of-charge. Indeed the UNFPA-supported standby ambulance made it possible for her to be transported safely and arrive on time.  At Abim hospital, Awor was admitted and after one day taken to theatre and underwent caesarean delivery. Today, Awor and her baby girl Awilili Mercy Lorna are all in good condition.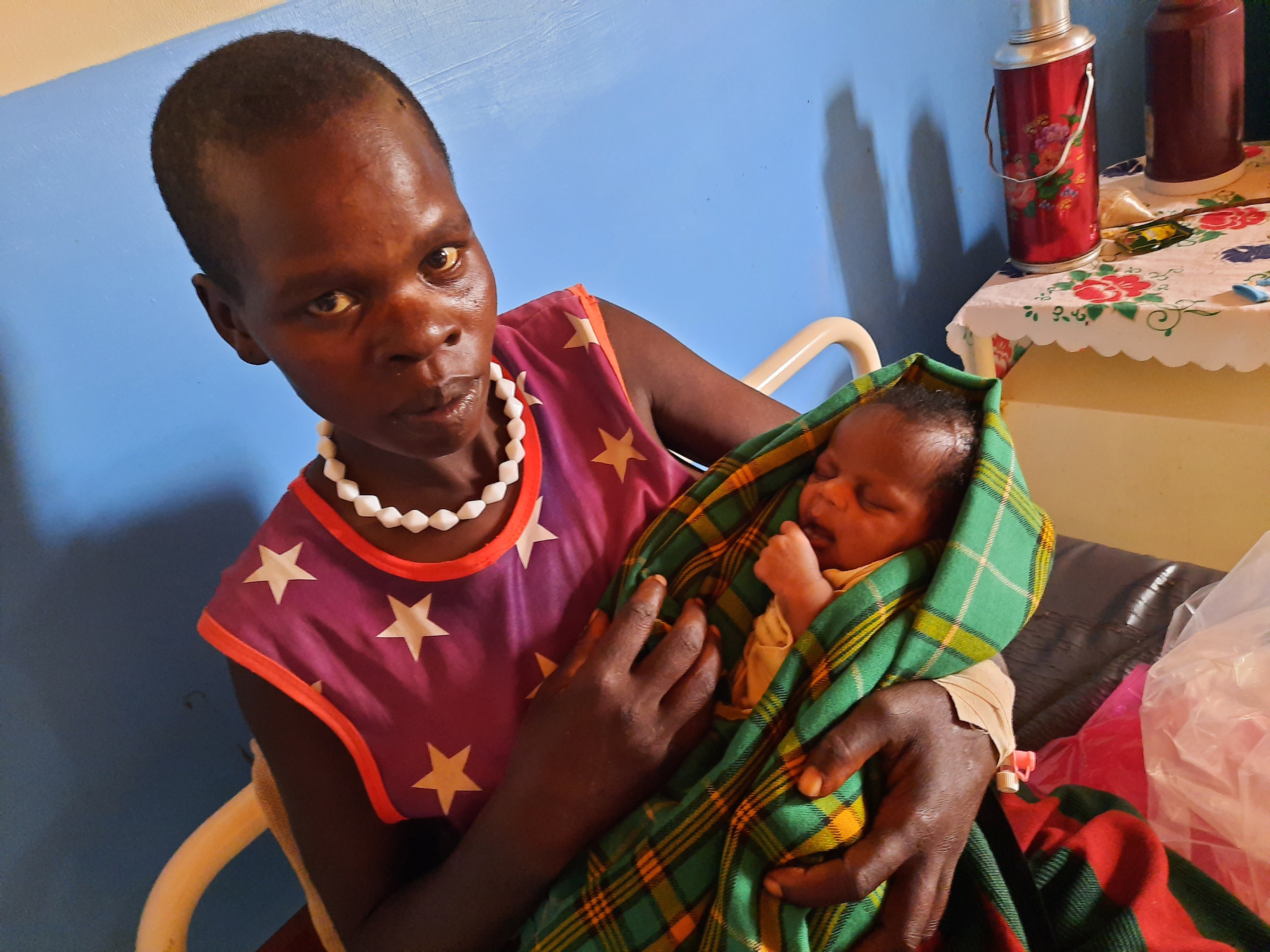 Thirty-five-year-old Loiki Lotyanga had a similar story. Living in Kurao Village, Kurao Parish, Kasapata Sub-County, in Kaabong District, Loiki was expecting to deliver her fourth child when the COVID-19 pandemic struck. Amidst movement restrictions Loiki's due date came closer until the day she needed to check into Karapata HC III to deliver her baby. Unfortunately due to an obstetric complication, she also could not deliver from that facility and the health facility recommended a referral to Kaabong hospital, a facility located over 50kms away.
Again, the UNFPA- supported ambulance referral system made it possible for her to be transported safely where she delivered safely.  Loiki and her baby girl Akol are all in good condition. Both Loiki and Awor indicated their willingness to start using family planning to prevent unplanned pregnancies in future.
While COVID19 presented challenges in access to sexual and reproductive health services, UNFPA has continued to support preparedness and response efforts by strengthening health system. In the Karamoja region, these interventions include raising public awareness on the access to integrated package of rights to maternal and child health, family planning, HIV and GBV prevention and strengthening infection prevention and control measures required to mitigate spread of COVID-19 at health facilities and community level.
With support from the UK Foreign, Commonwealth and Development Office, provision of fuel worth over USD 40,000 has enabled ambulance referrals in the nine districts of Moroto, Kaabong, Kotido, Amudat, Nakapiripirit, Napak, Karenga, Nabilatuk, and Abim. The fuel also provides transportation of health workers to and from their homes to ensure access to skilled health care is not interrupted. 
An additional USD 76,000 was also invested to ensure that both clients and health workers are trained and protected from the risk of contracting COVID-19. This includes provision of personal protection equipment (PPE) and training on infection prevention and control (IPC) measures.
By working with district health teams, communities are now well sensitised on the dangers of, and how to protect themselves from COVID-19. Awareness has also been created on the continued availability of routine maternal health services in a bid to allay fears that the services can no longer be accessed due to COVID-19.
It is this package of interventions that contributes to strengthening the health system to ensure continued provision of life saving and routine maternal health services, thanks to the generous support from the UK government.
-Written by Robert Musoke