Kampala, Uganda - At a momentous event hosted by Her Excellency Maria Hankansson, the Ambassador of Sweden to Uganda, fifteen midwives from various regions of Uganda were recognized and awarded for excellence in midwifery service.
Representing the Speaker of Parliament, Bardege-Layibi Member of Parliament Ojara Martin Mapenduzi, the Chairperson of the Uganda Women's Parliamentary Association (UWOPA) Sarah Opendi, and UNFPA Representative Dr. Mary Otieno, joined Her Excellency Hankansson to hand over the Awards.
Organized as a pre- international day of midwives' event in partnership with UNFPA and the Ministry of Health, the Midwifery Awards highlight the significant role that midwives play in maternal health. The Awards are open to all midwives who are registered and enrolled, and licensed to practice in Uganda by the Uganda Nurses and Midwives Council; and the recipients were selected following a nationwide nomination process at district, regional and national level.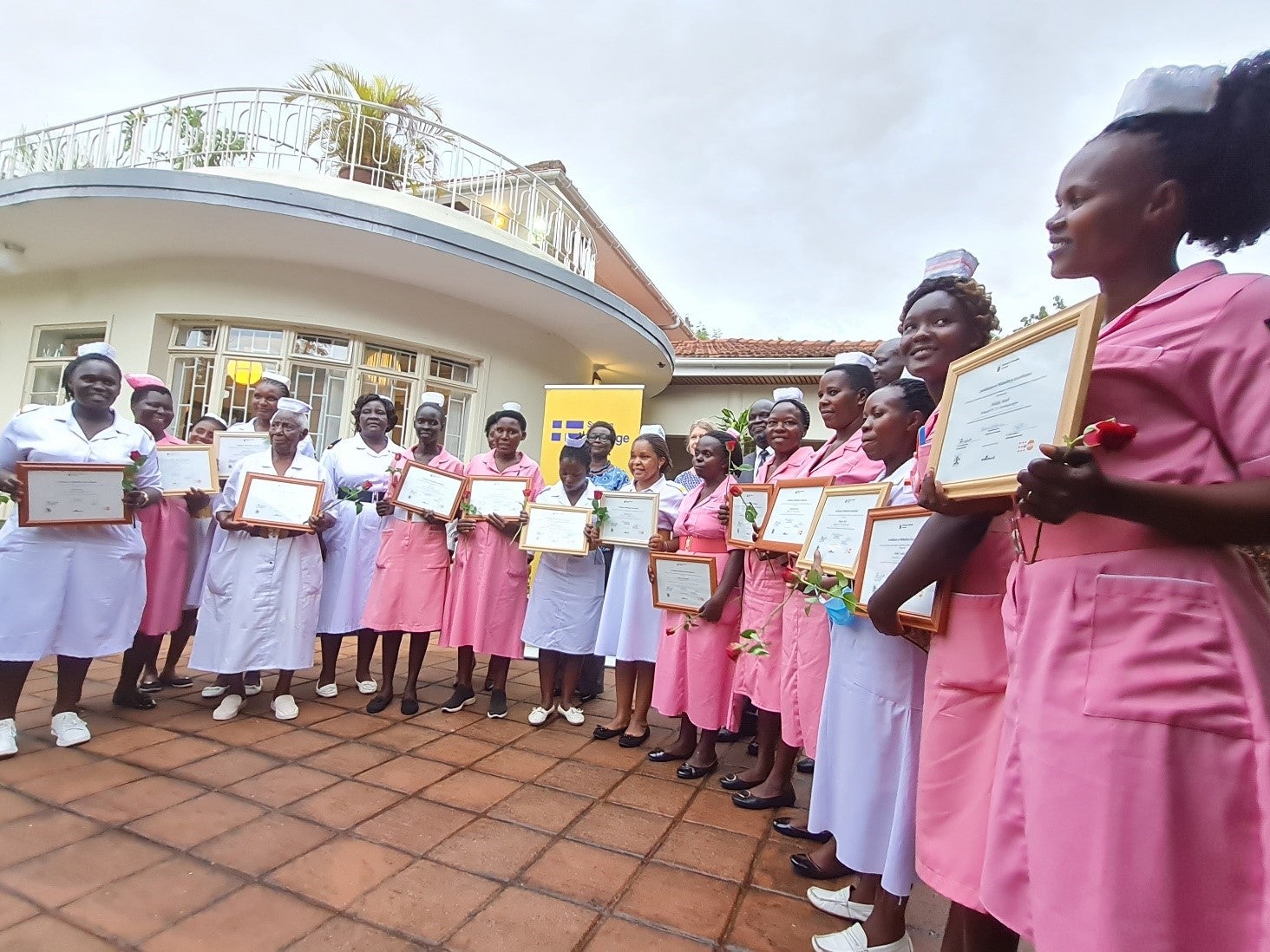 The international day of midwives is commemorated on May 5. This day is observed to honour midwives' work and promote awareness about their importance in providing crucial care to mothers and their newborns.
Speaking at the event, Dr. Mary Otieno the UNFPA Representative commended the Embassy of Sweden and the Swedish Midwives Association, who since 2015 have been convening such important events to recognize Uganda's midwives for their commitment.
She also commended the Government of Uganda under the leadership of Ministry of Health for the efforts towards improving midwifery services in Uganda, noting that currently seven out of ten mothers in Uganda, are able to deliver with assistance from a skilled birth attendant.
"UNFPA stands in solidarity with midwives in recognition of the life-saving work they do every day, often in difficult conditions. Evidence shows in such circumstances; the midwives are able to provide 87% of the care needed," she noted.
UNFPA's support to Uganda to address the midwifery deficit
Dr. Otieno said that midwives, when properly trained and supported, offer one of the most cost-effective and culturally-sensitive paths to achieving universal health care.
"With funding from the Embassy of Sweden, a total of over 600 midwives have been trained under a bonding scheme and have been deployed in health facilities across the country to address the midwifery deficit, especially in hard-to-reach areas like the Karamoja region in Northern Uganda," she added.
Midwives make a difference between life and death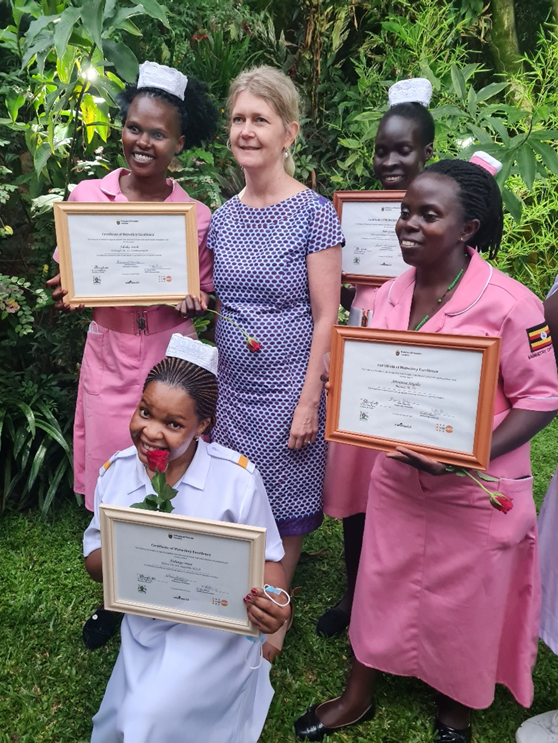 H. E Hákansson, said that the fifteen midwives represent the tremendous efforts made by thousands of midwives every day across the country often under challenging circumstances. 
"Midwives play a key role in maternal and newborn health, and their presence often make the difference between life and death for newborn babies and their mothers. For this, they deserve our respect and recognition!" she commended. 
"Midwives are also central to women's empowerment. Midwifery is crucial in ensuring sexual, reproductive, health and rights as well as maternal and new born health care," said H.E. Hákansson.  "Through Sweden's Feminist Foreign Policy, the Swedish government aims to ensure that women and men have the same power to shape society and their own lives."
"It is our hope that all awarded midwives will continue to find motivation to carry out the very important work that they do and be role models for other midwifes and students in their districts, regions and in Uganda as a whole."
Prior to the Award ceremony, the best performing midwives held a dialogue with Members of Parliament to share their experiences. Representing all the regions across Uganda, they highlighted critical issues such as inadequate human resources, infrastructure, equipment and supplies among others.
Sr. Anena Ketty from Bugiri Hospital in Eastern Uganda shared her experience, acknowledging that midwives are sometimes overwhelmed by the amount of work they have to do.
 "As a District Emergency Coordinator, I execute work beyond my portfolio to ensure that we do not lose any mothers nor babies. Sometimes I support delivery of over 50 babies a month."
Ninety-one-year-old Aidah Ssemukuti from Kugumikiriza Patience private health clinic in Wakiso district, Central Uganda narrated her inspirational decades of service as a midwife highlighting her sustainable efforts in training and empowering younger midwives to devote their services to saving lives of mothers and babies.
Issues of women and the girls top the agenda of Uganda's Parliament
Hon. Martin Ojara Mapenduzi representing the Speaker of Parliament said; "since our election to office, we have made it clear that one of the issues that will top our agenda is addressing the matters that affect women and girls.
Every day, we are reminded about the realities that face the [health] sector, the statistics that define our maternal mortality rate, and the challenges that our midwives face in their day-to-day work," read the statement.
Hon. Mapenduzi highlighted the need to tackle gender inequality and lack of male involvement in maternal health. "We must challenge the traditional gender norms and we must engage men in maternal health by mobilizing fathers, husbands and brothers to support and encourage women to go for antenatal care and give birth in a health facility," he said.
The chairperson of the Uganda Women's Parliamentary Association (UWOPA) and Tororo Woman MP, Hon. Sarah Opendi commended the Swedish Embassy for the initiative of recognizing the midwives since 2015.
Compiled by Josephine Zhane, UNFPA Uganda.