The International day of the Midwife was commemorated in Kampala May 5 with renewed commitments made from partners and stakeholders to invest more in midwives and avert preventable maternal and newborn deaths.
Commemorated at Tick Hotel in Kawempe, the event was organized by the Ministry of Health and supported by UNFPA with generous funding from the Embassy of Sweden in Uganda.
Under the theme: "Follow the Data, invest in midwives," the midwives were acknowledged for the critical role they play in keeping the world healthy, ensuring that mothers give birth safely.
Over 200 from across the country gathered to deliberate, share experiences and success stories and advocate for better provision of midwifery services in Uganda.
Representing the midwives, the Principle Nursing Officer Kawempe Hospital, Catherine Nabbanja Mugoya said that midwives constitute a critical human resource for health in the delivery of maternal, child and newborn health services and therefore investing in midwives and appropriate use of data will go a long way in preventing maternal and pregnancy related complications.
She appealed for recruitment of more midwives to address the challenge of understaffing and work overload, salary and knowledge and skills enhancements, funding research studies and equipping health facilities with necessary equipment to achieve timely interventions, among others.
"Ultimately, a skilled, equipped, motivated midwife is what is required to avert maternal and childbirth related complications," she said.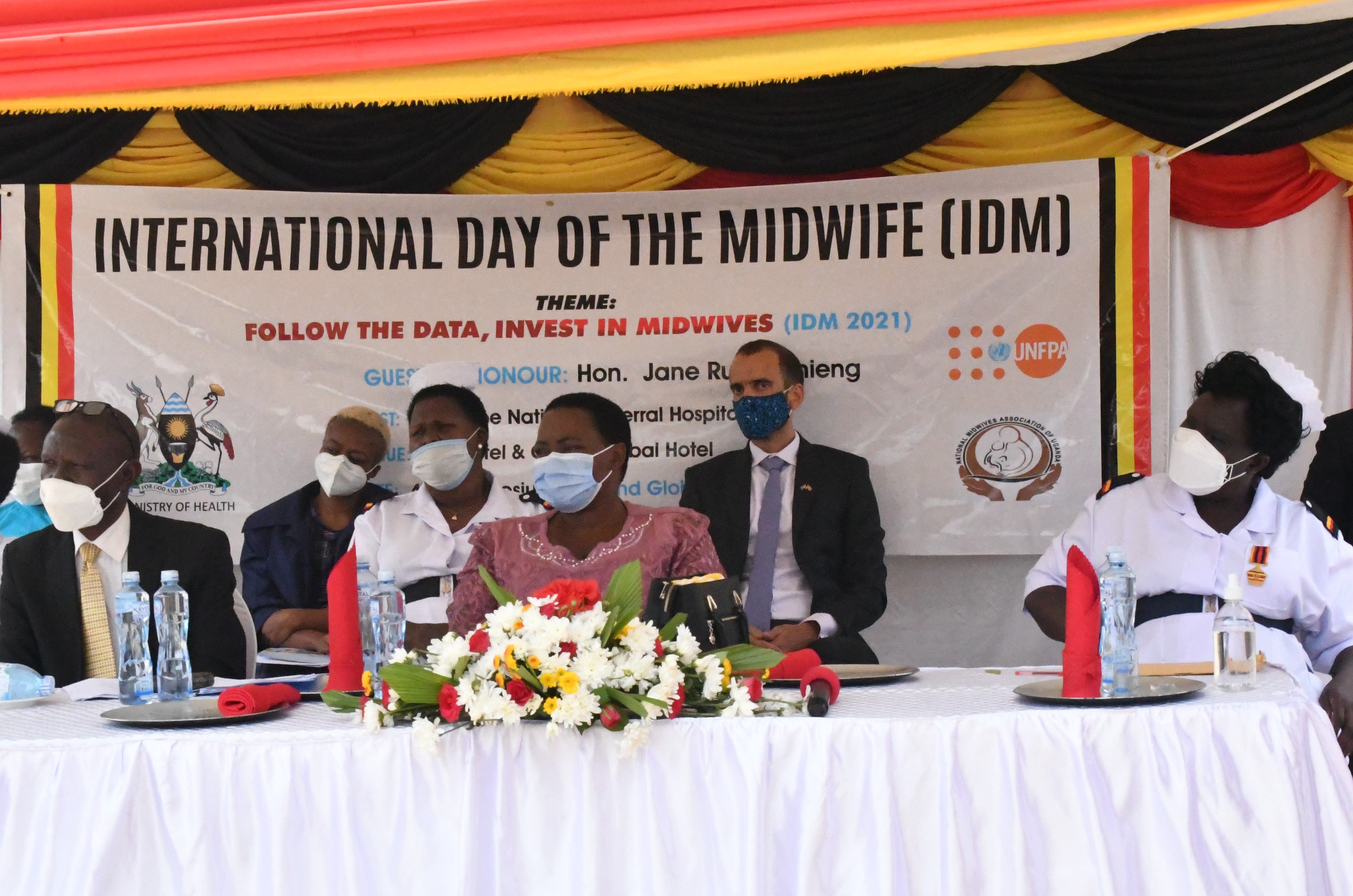 In his speech, Dr. Nehemiah Katusiime, the Executive Director Kawempe Hospital said that midwives are the backbone of any health system and play a critical role in providing maternal and newborn care services, adding that in the middle of the COVID-19 pandemic, midwives, like other health workers should be recognized for their commitment to stand at the frontline of the response.
"If we do not strengthen the midwifery workforce, health care systems will be unable to provide efficient and quality care to mothers and newborns. Investing in midwives improves health and supports economic growth," he said.
In response, Minister of Health (General Duties) Hon. Robinah Nabbanja who was also the chief guest thanked development partners and stakeholders for the continued effort in supporting midwives in the provision of sexual and reproductive health and rights services in Uganda. She said that the Government of Uganda is committed to ensuring that midwives are supported to deliver quality midwifery services by creating conductive working environments for them, adding that the current shortage of midwives in the country will soon be addressed.
"Midwives are vital to women during pregnancy, labour, child birth and post-delivery period as well as provision of family planning counseling. Indeed the role of midwives is not only incredible but incomparable," Hon. Nabbanja said.
"My ministry is determined to ensure that skilled attendance at birth is increased and maternal and neonatal mortality is reduced significantly by providing midwives with a conductive working environment."
Representing the Ambassador of Sweden to Uganda H.E Per Lindgarde, the Embassy's First Secretary Mr. Adam Kahsai Rudebeck said that Sweden remains committed to supporting sexual and reproductive health and rights in Uganda.
"Investment in midwives is not only an investment to save lives of mothers and newborn children. It goes beyond and lays ground for individuals and families to plan their lives, enabling them to make informed choices. Midwives support and promote healthy families, empower women and couples to choose whether when and how often to have children," Mr. Kahsai said.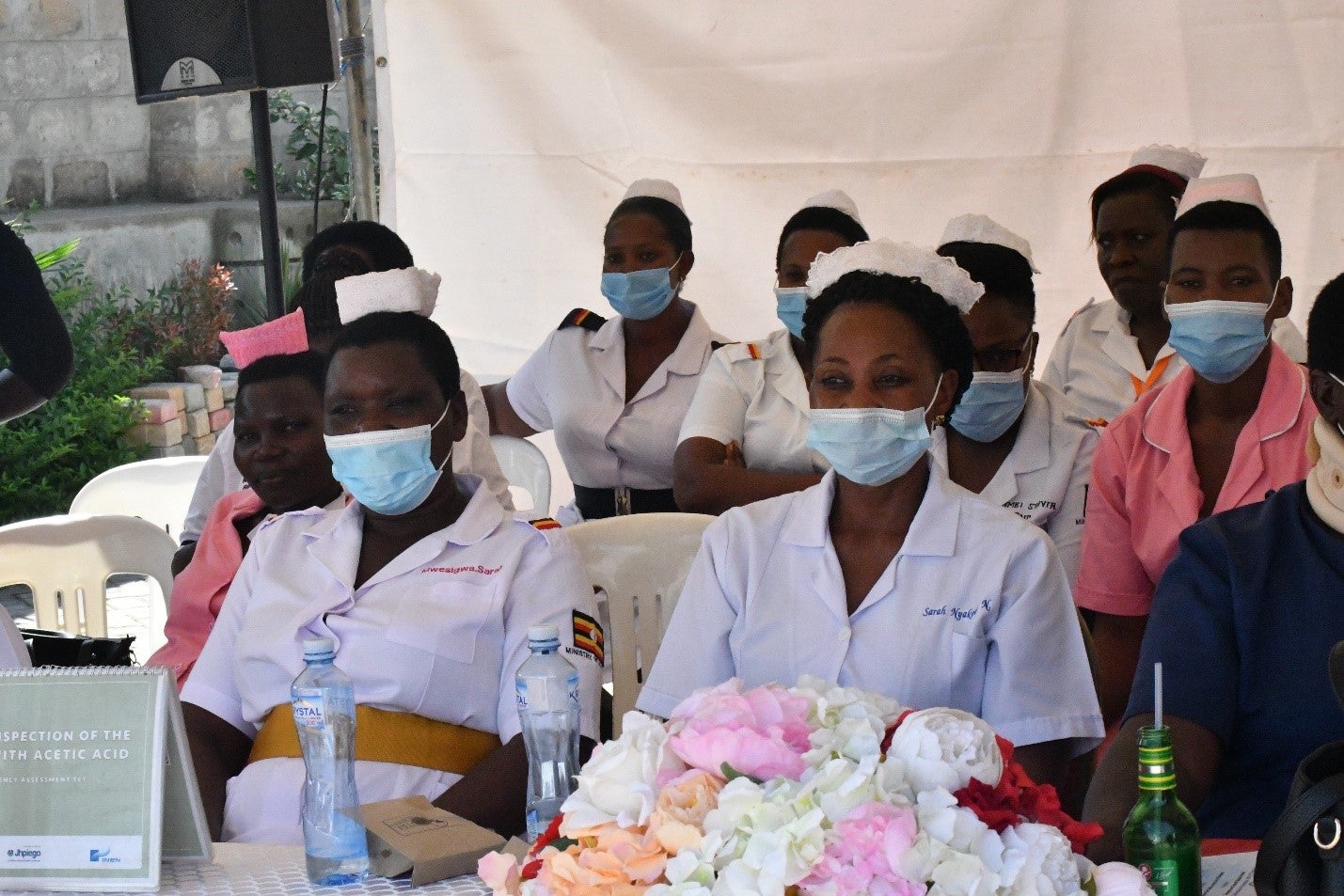 Representing UNFPA Representative, Ms. Abigail Msemburi, Deputy Representative said that for midwives to achieve their potential, there is need for greater investment in education and training, health workforce planning, management and regulation and the work environment, leadership and governance and service delivery as outlines in the State of the Worlds Midwifery Report 2021
"Today and going forward, UNFPA stands with midwives to call for investment in and respect for midwives and midwifery so they can provide women the quality and dignified care they deserve," Ms. Msemburi said.
-Written by Evelyn Matsamura Kiapi