PARABONGO, AGAGO, Uganda - "I suffered violence for so long and had no one to run to. But in this Farmers' group, I have learnt non-violent strategies of dealing with misunderstandings with my spouse, we are now at peace as a family, my relationship with my spouse has greatly improved,'' says Mary Atim, a member of Kica Ber Farmers' Group, located in Pacer parish, Agago district in Northern Uganda.
"I openly speak to my daughter on body changes and risks related to unwanted pregnancies, I have learnt from this Farmers' group to guide my adolescent girl and support her to complete her education," says Julius Labaki, another member of the group.
Mary and Julius are beneficiaries of the Integrated Sexual and Reproductive Health and Rights (SRHR) and Gender-Based Violence (GBV) prevention mentorship interventions that were extended to members of the Kica Ber Farmers' Group, under UNFPA's Women, Adolescents, Youth Rights and Empowerment (WAY) programme.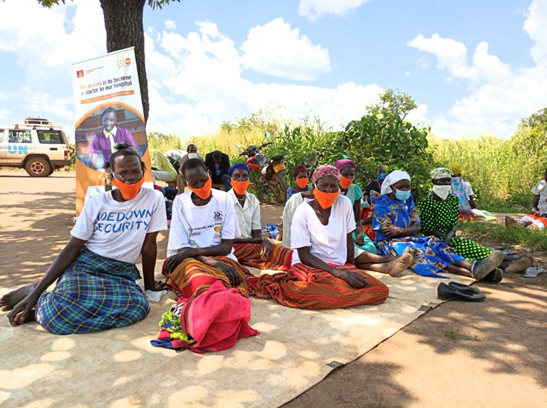 Kica Ber Farmers' Group is a thirty-member farmers' group consisting of nineteen females and eleven males. This group undertakes sesame farming, they also have Village Savings and Loan Association (VSLA) activities, among others.
Under the WAY programme, CARE International in Uganda, UNFPA's implementing partners, is collaborating with DANIDA funded Northern Uganda Resilience Initiative (NURI) to integrate GBV and SRHR activities in the Farmer's programme. To do this, the NURI extension workers received training on GBV and SRHR.
"I conduct these sessions in an integrated manner. For example, I can hold a session on post-harvest handling and GBV," says Dorine Alanyo, a NURI extension worker attached to Kica Ber Farmer's group.
"I use the GBV/SRHR pack which guides our discussions and group members are free to express themselves on how they feel about these issues and I always encourage them to seek for family planning services at health facilities," Dorine explains.
Dorine reports that as a result of these interventions, there has been a reduction in GBV incidents reported by the members of the Farmers' group.
"We are also making progress in uptake of family planning services,' she says.
The members of this Farmers' group are grateful to UNFPA for this intervention because it is creating a positive change in their lives.
"When it comes to farm harvests, usually men want take charge. These days NURI and CARE have empowered us to use dialogue among ourselves and work together as a group,' says Christine Lamara, another member of the group.  
She adds that: "In the beginning, it was difficult to openly speak about family planning, now it is possible because we have been made aware of its importance for our lives and that of our communities." 
-By Cinderella Anena