Adjumani District, West Nile, Uganda:  Local leaders in Adjumani district have applauded development partners and non-governmental organisations operating in the region for the support towards humanitarian response interventions. Peter Data Taban, the Resident District Commissioner (RDC) said that Adjumani district is very unique in that 60 percent of the Population are refugees, mainly from South Sudan.
Taban was addressing the Danish Minister for Development Cooperation, Flemming Møller Mortensen, the Ambassador of Denmark to Uganda, Nicolaj Petersen, the UNFPA Uganda Representative, Dr. Mary Otieno, and other development partners who visited Adjumani district recently to interact with beneficiaries of the UNFPA supported programmes that are funded by the Government of Denmark.
He thanked the development partners for the funding that has enabled the district to bridge the gap in service delivery, ensuring that refugees co-exist peacefully with the host communities.
Elaborating on the unique hospitality that the people of Adjumani have extended to refugees, the Adjumani Woman Member of Parliament, Hon. Jesca Ababiku said that it is all possible because of the shared belief in humanity. "Thus we shall ensure that there is value for money for the programmes you support in Adjumani," she told development partners.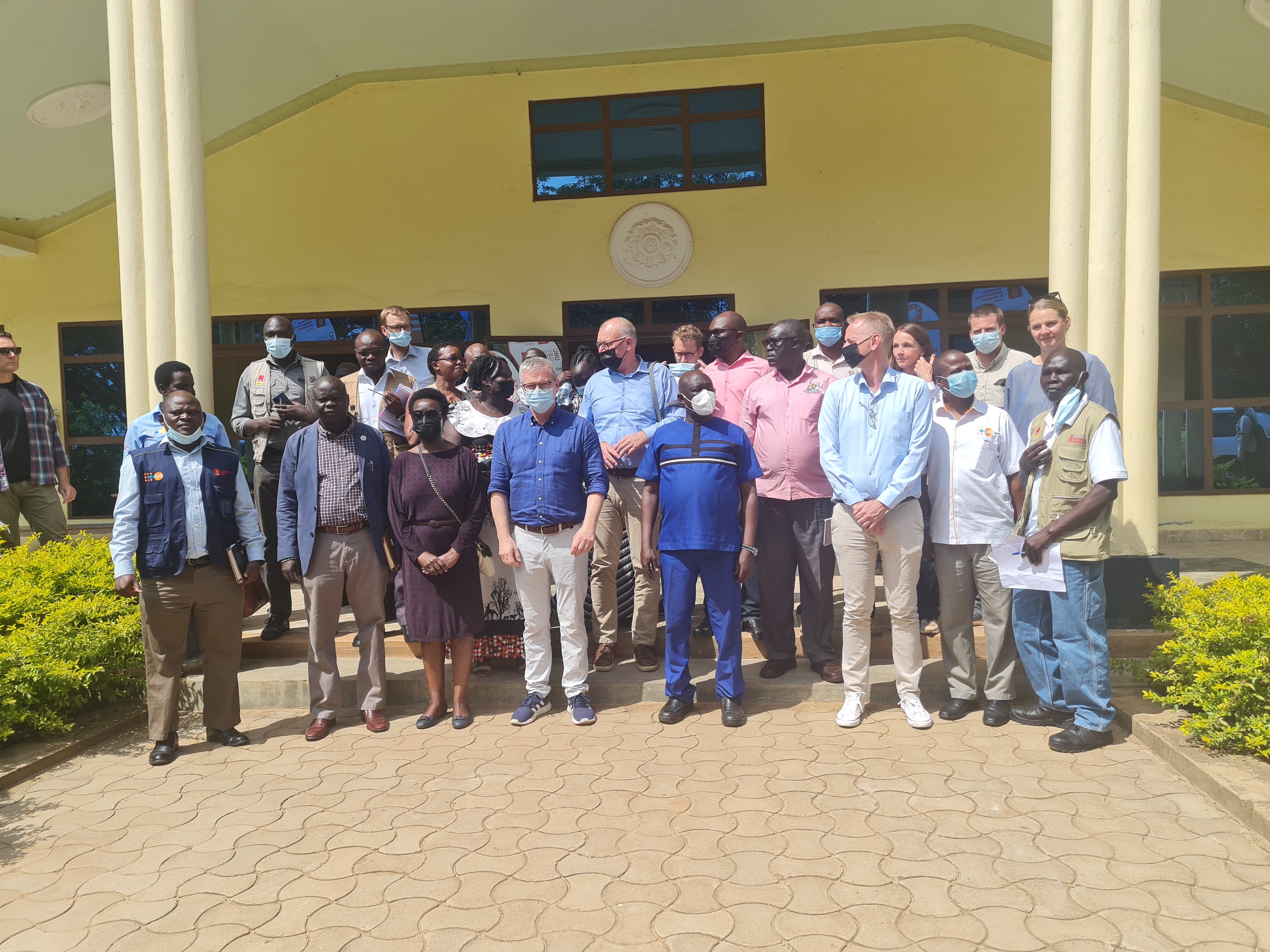 Interacting with refugee women at Nyumanzi Women's Safe Space in Nyumanzi refugee settlement, Minister Mortensen commended the local authorities and development partners for ensuring the delivery of high impact interventions.
"You are showing us that this initiative through CARE is changing your lives," said Minister Mortensen after listening to stories of change narrated by the women.
CARE International Uganda is one of UNFPA's implementing partners of the Women, Adolescents, Youth (WAY) Rights, and Empowerment Programme that is funded by the Government of Denmark.
At the Safe Space, refugee women and girls meet, exchange information and experiences, and rebuild social assets and community networks. They access information and referrals to sexual reproductive health services, including family planning, maternal healthcare for pregnant women, prevention and response to gender-based violence, as well as livelihood skills for economic empowerment. Minister Mortensen commended Uganda for the unique refugee model where refugees are hosted in settlements instead of camps and are able to share services with the host communities,including health, education, among others.
The UNFPA Uganda Representative, Dr. Mary Otieno commended the government of Denmark and other development partners, that commit funds to UNFPA to support the implementation of interventions that integrate resilience-building strategies within development programmes, enabling populations to access sexual reproductive health and rights services, even in humanitarian context.
"UNFPA works to deliver a world where every pregnancy is wanted, every childbirth is safe, and every young person's potential is fulfilled, including in the humanitarian context," Dr. Mary said.
"Thanks to the generous support of development partners like Denmark, UNFPA has been able to address the needs of pregnant women, vulnerable women and girls, and healthcare workers (midwives, doctors, nurses, etc) in the humanitarian and development nexus."
To date, Uganda is hosting over 1.5 million refugees and asylum seekers, according to the United Nations High Commission for Refugees. Adjumani district has a population of 482,814, of which 238,800 are nationals while 244,014 are refugees, mainly from South Sudan.
  Compiled by Prossy Jonker Nakanjako/UNFPA Uganda